Technical Information
Silicone Rubber Flexible Heating Blankets
Michaels Enterprises, Inc. flexible heaters are constructed using UL and CSA approved materials and components. Silicone flexible heaters are constructed for temperatures up to 450 °F.
---
Heating Element
The resistance heating element is high temperature Copper-Nickel and Nickel-Chrome alloy wire, wound around a Kevlar cord to provide added strength and flexibility.
---
Sheath Material
The pre-wound heating element is vulcanized between two layers of fiberglass reinforced silicone rubber to form a strong flexible assembly. Vulcanizing agents are removed during the hot press and out-gassing cycles to produce a flexible heater with high dielectric strength that is resistant to moisture, chemicals and acids.
---
Heater Sizes
Flexible heaters are available in sizes up to 37" x 143" without splicing. Longer heaters are available 30" wide or less. Complex shapes, contours and power densities in single or multi-zoned heaters are available with voltages ranging from 6 volt single phase to 480 volt three phase.
---
Heater Fasteners and Attachments:
Springs (used above w/ grommets)
Snaps
Boot Hooks
Pressure Sensitive Adhesive
Silicone RTV
---
Options: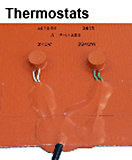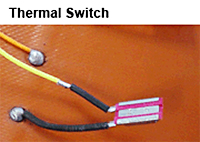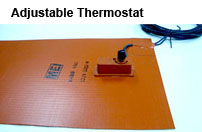 Silicone sponge
Thermocouple
Vulcanized to customer part
Leads and plugs
Cold bonding
Ground screen

---
Stretchable Heater: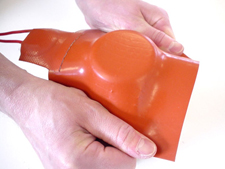 Special Design:
Available in Limited
Shapes and Sizes.