FAQ
What is a Silicone Flexible Heat Blanket?

Our heaters are made of fiberglass cloth impregnated with silicone rubber, which together provide great strength and flexibility. A wire heating element is then then vulcanized between two layers of silicone rubber, forming a durable yet very flexible heat blanket that is resistant to moisture, chemicals, acids and many industrial solvents.
---
What is an Exit Tab?
Heater without exit tab locating the solder connection within the heated area.
Heater with exit tab locating solder connection off the heated surface.
---
What applications are best suited for Silicone Rubber Heat Blankets?


Many applications that require a very flexible, thin heat source are ideal for silicone heating blankets. Because of their thin (approx. .056 thick), flexible nature our heaters can be applied to many types of surfaces as long as they remain in contact with the surface to be heated. Applying the heat blanket over an area where the blanket is not in direct contact with the part to be heated is not recommended, nor is over-lapping the blanket. Silicone rubber heating blankets are often used for high temperature curing and manufacturing purposes, such as composite manufacturing and repair. They have become very popular because of their flexibility and their ability to achieve high temperatures. They are also used in situations that do not require high temperatures such as wax melting and food processing, where lower temperatures are preferred. Flexible heaters are used for small and large areas needing heat. They are an efficient way of heating many products, delivering very even heat across the entire heated surface.
---
What if special shapes of a more complex nature are needed?


Usually, manufacturing complex shapes is not a problem. However, because of variations in equipment or part sizes that require a complex shape, it is recommended that very detailed dimensions are given (or a template be provided by the customer, cut to the configuration desired) to ensure a proper fit. Custom blankets of a complex nature may be more expensive due to increased manufacturing costs.
---
How long will it take to heat, cure or melt a product?
This is a question often asked, and with a little information from the customer we can help determine approximate process times. However, some processes such as wax melting or decrystalizing honey are difficult to approximate. The user should always allow for numerous variables such as environmental temperature, insulation, wattage, number of heaters, amount of contact between the product and the inside of the vessel, etc, etc, etc...
---
How can Silicone Heating Blankets be attached to different surfaces?
We offer various attachment techniques for fast installation:
PSAS (Pressure sensitive adhesive surface): A speedy, economical, and convenient way to apply our heating blankets to a particular part or piece of equipment that has a smooth flat surface. Note: PSAS is not recommended for curved surfaces or on heaters with an operating temperature over 350 °F.

RTV (Room temperature vulcanizing adhesive): Forms a very strong bond when applied to the surface between the blanket and the part. Red, self-leveling RTV is good for temperatures over 500 °F. Most RTV starts to set up in as little as 15 minutes, but requires 24 hours to fully cure.

Mechanical Fasteners: We offer a wide range of fasteners for the individual who is looking for an easy on/off application such as: Velcro (under 300 °F.), grommets, boot hooks, springs, lacing cord, etc.. Most commonly used for wrapping drums, tubes, buckets, piping, and many other applications.
---
Temperature Controllers: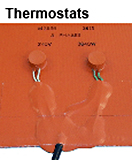 In most cases some type of temperature control is necessary. We can apply a thermocouple to the surface of the heater, (for use with an electronic controller) or an integrated preset thermostat, or an adjustable thermostat. (Temperature adjusts from room temp to 550 °F) Both of the integrated types of thermostats are molded directly onto the heating blanket surface. Preset thermostats range in temperature from 40 °F to 110 °F (+/- 5), or 120 °F to 400 °F (+/- 10).
Thermostats are rated up to 15 Amps.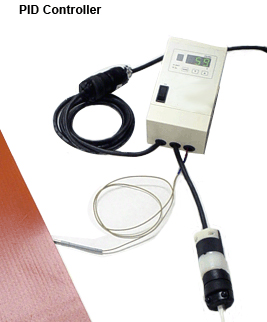 Note: An integrated thermostat molded to the blanket reads the temperature of the blanket and not necessarily the temperature of the part itself, unless an unheated window is designed into the blanket configuration.
If heater is equipped with an adjustable thermostat, increase temperature slowly over time and monitor heating blanket in order to determine the proper thermostat setting. Adjustable thermostats are capable of 550 °F. For the longest life of the heating blanket, temperatures of 450 °F should not be exceeded for long periods of time.
If equipped with either an adjustable or fixed temperature thermostat, be aware that the temperature of the entire blanket will be determined by the area of the blanket and/or part directly under the thermostat sensing area. Unless otherwise specified the thermostat will sense the temperature of the heating blanket, not necessarily the temperature of the part being heated. Heaters will at first greatly exceed the thermostat set point until the heater has cycled on and off several times allowing the temperatures of the blanket, the heated part, and the thermostat mold to achieve a similar temperature value.